Estard Data Miner (One Year License)
---
Comprehensive data mining software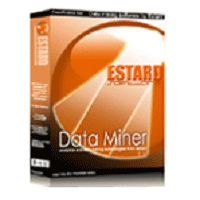 Our Price:
450.00
USD
(Discount
10
%)
ESTARD Data Miner is a comprehensive data mining software, able to discover most unexpected knowledge in your databases. In comparison to common business intelligence tools, ESTARD Data Miner is able to provide you with something more than just operating statistics - it gives you power to work with predictive analysis.
ESTARD data mining software also gives you tool for easy and effective using obtained knowledge. Try EDM special business intelligence features: fast case analysis or database searching with the use of decision rules and decision trees.
The performed statistical analysis will help you with insight to find most important data patterns.
Why Choose Estard Data Miner (One Year License) ?
Perform statistical analysis for better understanding your data.
Reveal hidden correlations and dependencies in your databases with the help of decision rules ("If-Then" rules) and decision trees.
Create data patterns descriptions.
Create and implement decision models.
Work with predictive analysis.
Wizards for data mining and data base loading will ease the process of data mining.
Reports on decision rules, decision trees and statistical analysis are provided.
This data mining tool can be used knowledge discovery in various sectors including:
Insurance Industry, Banking, Finances, Marketing Campaigns, Accounting & Inventory Management, Healthcare, Scientific Researches, and Military Sphere
Support the following databases:
Oracle, MSSQL, MySQL, Sybase, Access, Text files, Excel.
Operating Systems Supported
Microsoft® Windows® 7 Starter/ Home Basic/Home Premium/Professional/Ultimate
Microsoft® Windows® Vista Starter/Home Basic/Home Premium/Business /Ultimate
Microsoft® Windows® XP with SP2/SP3 or Home/Professional/Media Center
Microsoft® Windows® 2000
Microsoft® Windows® NT
Microsoft® Windows® 98
Hardware Requirements
1 GHz processor or faster processor
256 MB of RAM or more
10 MB of free hard disk space