Viobo MySQL to Access Data Migrator -
---
Tidy tool to migrate data from MySQL to Access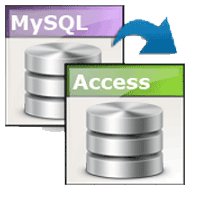 Our Price:
44.97
USD
(Discount
10
%)
Viobo MySQL to Access Data Migrator is the most efficacious data-migrator between MySQL and Access currently. It migrates data and DDL from MySQL to Access accurately and perfectly, and with NO database administrator experience required.
User can migrate and backup Views, Indexes, Primary Key and Foreign Keys in Access without other Client Software, and can manage data structure in MySQL simply. The data migrator is compatible with all versions of MySQL and Access, including MySQL 3.x to 6.x, Access 97 to 2007, etc.
Why Choose Viobo MySQL to Access Data Migrator ?
Table & View Migration.
Keys & Indexes Migration.
Character Sets Choice.
Target Side Remote & Local Backup.
Target Side Selected Remove.
Remote & Local Migration.
Relations Migration.
Driver/Provider Check.
Target Side Table Rename.
Migration With Condition.
Optimized Conversion.
Business licence allows to use it on 1-5 computers.
Operating Systems Supported
Microsoft® Windows® 7 Starter/ Home Basic/Home Premium/Professional/Ultimate
Microsoft® Windows® Vista Starter/Home Basic/Home Premium/Business /Ultimate
Microsoft® Windows® 2003
Microsoft® Windows® XP with SP2/SP3 or Home/Professional
Microsoft® Windows® 2000
Microsoft® Windows® NT
Microsoft® Windows® Me
Microsoft® Windows® 98
Hardware Requirements
300 MHz processor or faster processor
128 MB of RAM or more
10 MB of free hard disk space