Clock-on-Desktop Pro Edition
---
Display analog and digital clocks on your desktop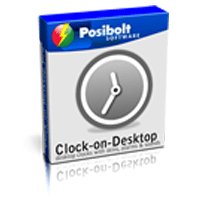 Our Price:
26.96
USD
(Discount
10
%)
With Clock-on-Desktop you are able to create alarms and associate them with one or multiple tasks. In this way you optimize everyday work done by you.
Assume that you work on the computer all day long and it is important for you to make breaks every half a hour. To remind you about a break, just create a periodic alarm with an interval of half an hour and Clock-on-Desktop will tell you that it is time to break away from the computer and take a break
You have many relatives, friends, acquaintances and you don't want to forget their birthdays. In this case, Clock-on-Desktop will also help you. When you create a birthday reminder, you can specify e-mail and the program will automatically detect an avatar through a global system Gravatar or you will be able to manually assign a picture. There is also an opportunity to remind you about upcoming birthdays for two weeks and(or) two days before the event
You are tending to plan your tasks for the next day and assigning grades based on work done. In this case, the Clock-on-Desktop todo manager is ideal solution for you. A distinctive feature of the manager is a simple interface that anyone can start using without reading the documentation. With help of the todo manager you will always remember what you did a month or a year ago. Organize your life and work easier!
Why Choose Clock-on-Desktop Pro Edition ?
Include all the features in Standard Edition in addition to:
Effective alarm system that support various alarm types.
Easy-to-use reminders.
Birthday reminders with support of avatars and Gravatars
Lifetime product update and support.
Operating Systems Supported
Microsoft® Windows® 7 (32-bit and 64-bit) Starter/ Home Basic/Home Premium/Professional/Ultimate
Microsoft® Windows® Vista (32-bit and 64-bit) Starter/Home Basic/Home Premium/Business /Ultimate
Microsoft® Windows® XP (32-bit and 64-bit) with SP2/SP3 or Home/Professional/Media Center
Microsoft® Windows® 2003 (32-bit and 64-bit)
Microsoft® Windows® 2000
Hardware Requirements
300 MHz processor or faster processor
128 MB of RAM
20 MB of free hard disk space