Clock-on-Tray Extended Edition
---
Replacement for standard Windows desktop clock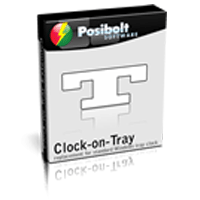 Our Price:
40.46
USD
(Discount
10
%)
It is not just a computer desktop clock replacement. It is not just more than one hundred skins bundled. It is not just a useful and beautiful clock on your Windows system tray.
Clock-on-Tray includes powerful and easy to use alarm system. You can simply remind yourself, prepare a schedule for the week or month ahead, maintain a list of birthdays. Use different kinds of alarms for the automation of daily tasks. Choose from hourly, daily, weekly, monthly, annually and periodic alarms.
More then one hundred skins are divided into several categories. Some of them are "Cartoon skins", "Classic skins", "Modern skins", "National skins", etc.
Clock-on-Tray also replaces Windows calendar. The new calendar looks friendlier and supports add-ons also. You can see the approaching alarms and birthday parties right on the calendar. You don't need to spend a lot of time to search.
Why Choose Clock-on-Tray Extended Edition ?
Include all the features in Pro Edition in addition to:
Awesome todo manager.
Colorful notes to pin to your desktop.
Personal dairy.
Lifetime product update and support.
Operating Systems Supported
Microsoft® Windows® 7 (32-bit and 64-bit) Starter/ Home Basic/Home Premium/Professional/Ultimate
Microsoft® Windows® Vista (32-bit and 64-bit) Starter/Home Basic/Home Premium/Business /Ultimate
Microsoft® Windows® XP (32-bit and 64-bit) with SP2/SP3 or Home/Professional/Media Center
Microsoft® Windows® 2003 (32-bit and 64-bit)
Microsoft® Windows® 2000
Hardware Requirements
300 MHz processor or faster processor
128 MB of RAM
20 MB of free hard disk space