2Speak Italian Complete
---
Learn to Speak Italian Like a Native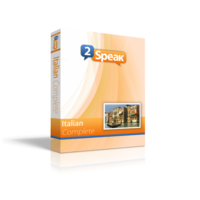 Our Price:
52.76
USD
(Discount
20
%)
2Speak will teach you the most used Italian vocabulary and phrases. You will master basic conversational skills, like greeting someone, introducing yourself, and asking and answering complex questions. Join in a wide range of social interactions. Express your ideas, share your feelings, talk about daily life, business, and local events – all clearly and spontaneously. Make great progress in just 8 weeks.
Unlike other software, 2Speak is organized around the idea that Italian is more than just a series of pictures and vocabulary words. Adults need explanations to understand how a language works. Step by step, the 2Speak Italian software shows you the rules you need to know. Do more than just memorize – learn to speak your own Italian sentences.
With 2Speak, you'll sound like a local and blend in. Learn the tips and tricks to speak without an English accent from native Italian speakers. With 2Speak's portable audio, you can practice on your computer, in the car, at the gym or anywhere you like. 2Speak's one click export to your iPhone, iPod, Android, or any other Mp3 device, makes taking the course on the go easy.
2Speak Italian is more than just language software, it's a growing community of Italian language learners. You'll gain unlimited access to the built-in Italian social network. Collaborate with others, ask questions, and discuss how to improve your Italian. Get involved and get the help you need 24 hours a day.
Find a Italian conversational partner in one click. Practice with Italian speakers all over the world with the integrated audio/video chat. Talk with others over audio alone or turn on your webcam for an interactive video practice session. Try out your new skills with another Italian speaker and master Italian by practicing in real-life.
Why Choose 2Speak Italian Complete ?
Interactive Study Guide.
Portable Audio Instruction.
Access to Italian Social Network.
Built in Audio and Video Chat.
Basic Italian Concepts.
Everyday Situations.
People and Culture.
Greetings & Polite Conversation.
Talking about time.
Travel and Getting Around.
Double the number of materials in Starter edition.
Operating Systems Supported
Microsoft® Windows® 7 Starter/ Home Basic/Home Premium/Professional/Ultimate
Microsoft® Windows® Vista Starter/Home Basic/Home Premium/Business /Ultimate
Microsoft® Windows® XP with SP2/SP3 or Home/Professional
Mac OS 10.4 or later
Hardware Requirements
1 GHz processor or faster processor
512 MB of RAM
500 MB of free hard disk space