Chef Master
---
Enjoy the world's food recipes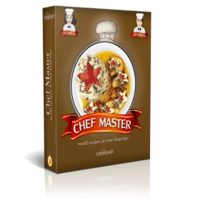 Our Price:
11.21
USD
(Discount
25
%)
Chef Master makes it really easy to find recipes. While other recipe programs out there have limited search capability, Chef Master allows you to search for recipes containing any number of ingredients, cooking time, difficulty, ratings, keywords and more. It really is an amazing way of searching. On top of that, our recipe filter is very easy to use and very user friendly. Essentially, all you have to do is double click certain search criteria you want to use with no typing at all, unless you specify search keywords. Combine search criteria easily and get the recipes you want in the easiest way possible!
Chef Master comes pre-loaded with 750 world-wide recipes. Most countries are covered so you can start exploring international cuisine today without getting out of our house! Imagine what interesting international recipes you may be able to cook right now with the stuff you have on hand. Did you know that with only milk, sugar, strawberries, eggs and garlic you can make a dish from Antigua and Barbuda ? Well, Chef Master knows. Discover today recipes you may never have the chance to otherwise try!
Why Choose Chef Master ?
Hassle free, easy to use Recipe Software.
Ability to share recipes.
Find recipes you like easily.
Cooking Idea of the Day.
Access to World-Wide Recipes.
On-the-fly help.
Continuous recipe sync.
Shopping List.
Manage your inventory.
International Recipes.
Operating Systems Supported
Microsoft® Windows® 7 Starter/ Home Basic/Home Premium/Professional/Ultimate
Microsoft® Windows® Vista Starter/Home Basic/Home Premium/Business /Ultimate
Microsoft® Windows® XP with SP2/SP3 or Home/Professional
Microsoft® Windows® 2000
Hardware Requirements
300 MHz processor or faster processor
128 MB of RAM
50 MB of free hard disk space