Happy Chinese Movie
---
Learn to speak chinese fluently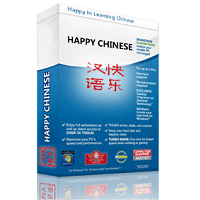 Our Price:
86.35
USD
(Discount
10
%)
A comprehensive chinese language learning software, developed in accordance with the advanced and scientific education concept of "separating the teaching of chinese language listening and speaking from Chinese characters reading and writing; Chinese language listening and speaking interact with chinese characters reading and writing; situational teaching" and the principle of "situation reconstruction; recording restoration; sentence intensive; practicality supreme", adopting such advanced techniques as speech recognition, speech synthesis and so on, imitating the real Chinese communication situations and the interactive communication between foreign teachers and students, and combining step-by-step learning with targeted intensive courses of pinyin, word, sentences and synchronous practice etc. to master the chinese mandarin and skills at listening, speaking, reading and writing with fun
Why Choose Happy Chinese Movie ?
Overview about the traditional chinese culture, history and origin of chinese characters.
Comprehensive learning the composition of Pinyin and way to use.
More than 6700 Chinese characters pronunciation, spelling, English translations, phrases and writing Chinese character stroke animation.
More than 10,000 commonly used phrases divided into 13 different scenes.
Intelligent voice recognition technology.
Comparison recording function can record your pronunciation and playback.
Learn chinese from movie, you not only can random switch English and Chinese subtitles, but also can repeat a single sentence and a key switch to any Dialogue.
Original Chinese learning games.
Contains a large number of reading, idioms and ancient poem.
Automatically download the latest released courses.
Operating Systems Supported
Microsoft® Windows® 7 Starter/ Home Basic/Home Premium/Professional/Ultimate
Microsoft® Windows® Vista Starter/Home Basic/Home Premium/Business /Ultimate
Microsoft® Windows® 2003
Microsoft® Windows® XP with SP2/SP3 or Home/Professional
Microsoft® Windows® 2000
Hardware Requirements
300 MHz processor or faster processor
256 MB of RAM
200 MB of free hard disk space