Testkingworld Mega Pack
---
Certification exams were never so easy to pass!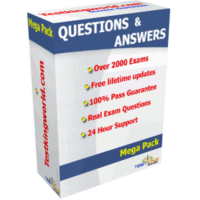 Our Price:
71.10
USD
(Discount
10
%)
Test king certification preparation is second to none. Rivaling the powerful tools and resources from IT- testkingworld.org exam preparation exceeds your expectations and delivers performance not available from other IT resources. Test king exams are 100% brain dumps free and are top quality materials delivering guaranteed results.
Testkingworld offers Training of all leading certification vendors including Microsoft, Oracle, Cisco, CompTIA, Novell, LPI, Check Point, Lotus, CIW, Citrix, Sun, RedHat, IBM, ICDL, ISC2, EC Council, ADOBE, Alcatel Lucent, PMI, Network Appliance, HP, CWNP, McAfee, Symantec, Juniper, Foundry, Huawei, Nortel, Extreme Networks, Veritas, 3COM, BICSI, EMC, Vmware, HDI, BEA, Sair, ISACA, TIA, McData, Exin, TeraData, DELL, Enterasys, Filemaker, Guidance Software, Hitachi, Tibco, ISM, Fortinet, Hyperion, IISFA, APC, Computer Associates, Exam Express, ISEB, Legato, Nokia, OMG, SAS Institute, SCP, Sybase, TruSecure, Polycom, Network General, Fujitsu, RES, Intel, Mile2, See Beyond, American College, ACI etc.
Why Choose Testkingworld Mega Pack ?
All Testking Questions and Answers are included in package.
All Testking Audio Exams are included free in package price.
All Testking Study Guides are included free in package price.
Over 2500 Testking Exam Downloads.
Lifetime Test king login access.
Lifetime Download Access.
Free updates for Lifetime.
Verified answers researched by industry experts.
Study Material updated on regular basis.
Audio Exams are downloadable in MP3 format.
No authorization code required to open exams.
Portable anywhere.
100% success guarantee.
Fast, helpful support 24x7.
Operating Systems Supported
Microsoft® Windows® 2008R2
Microsoft® Windows® 2008
Microsoft® Windows® 7 Starter/ Home Basic/Home Premium/Professional/Ultimate
Microsoft® Windows® Vista Starter/Home Basic/Home Premium/Business /Ultimate
Microsoft® Windows® 2003
Microsoft® Windows® XP with SP2/SP3 or Home/Professional
Microsoft® Windows® 2000
Microsoft® Windows® Me
Microsoft® Windows® 98
Microsoft® Windows® 95
Any OS can read PDF files, Mac OSX, Linux, Unix, iOS,...)
Hardware Requirements
300 MHz processor or faster processor
128 MB of RAM
50 MB of free hard disk space