Internet Cafe Lite
---
Easy, powerful, reliable, user-friendly cybercafe management software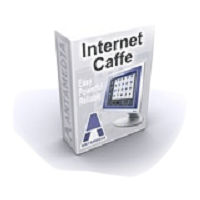 Our Price:
79.20
USD
(Discount
20
%)
Antamedia Internet Cafe controls, secures, and enhances the running of your Internet cafe, gaming center, library, school or hotel public computers. The software restricts access to the system, desktop, drives, folders and programs based on your settings. It helps you control and bill your customers for the Internet browsing, playing games, using Office applications, VOIP calling; even covering retail products.
Antamedia Internet Cafe is a client / server application that secures public Internet computers, kiosks, self service devices, controls WiFi HotSpot laptops and mobile devices, provides POS facilities, X10 to switch non PC devices and much more. Your public computers are protected with the Client Login screen, while HotSpot module shows login screen in the user's browser.
Internet Cafe Software includes application, gaming and VoIP management, billing, statistics and reporting with many useful features. The system is scalable with a fully integrated database system that will grow with your system.
Why Choose Internet Cafe Lite ?
Set Play & Pay Prices.
Use Pre-Paid Prices and Vouchers.
Cash Drawer Support.
Easily Generate User Accounts, Tickets and Refills.
Configure Applications.
Manage all your locations in one database.
Employee Account Management.
Internet Explorer Settings Control.
Bandwidth Manager API integration.
Advanced Statistics and Reports.
Get Real-time usage reports.
Caller ID Support.
Sell Additional Items with Tables.
Customizable Print Templates for Tickets, Bills and Reports.
Configure Program Categories.
And many more.
Operating Systems Supported
Microsoft® Windows® 7 (32-bit and 64-bit) with UAC set to Never Notify level
Microsoft® Windows® Vista (32-bit and 64-bit) with UAC disabled
Microsoft® Windows® XP (32-bit and 64-bit) with SP2/SP3
Hardware Requirements
1.7 GHz processor or faster processor
512 MB of RAM or more
60 MB of free hard disk space
2 NICs for Internet Cafe with HotSpot module