Traffic Inspector & Kaspersky Gate Antivirus
---
Monitor Internet activity, control your connections, & virus protection gateway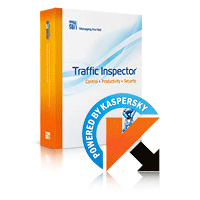 The package contains an integrated gateway solution for Traffic Inspector and a module for antivirus protection Kaspersky Gate Antivirus, which was developed in partnership with Kaspersky Lab, an international data-security software-development company. Together these two programs provide Internet users with network access control, antivirus protection, monitoring and diagnostics, speed control, load balancing and network security
Why Choose Traffic Inspector & Kaspersky Gate Antivirus ?
Control Internet Access & Traffic.
Accounting for Traffic.
allows caching of frequently-used Internet resources, as well as blocking banners, ads, etc.
Network protection is organised at two levels: Firewall for external attacks, locks and alarm at excessive network activity
Speed Control & Routing.
Spam Filtering.
Remote Control & Statistics.
Scan HTTP and FTP traffic passing through the proxy server and mail traffic transmitted via the SMTP gateway.
High-Speed Work.
Automatic updating of antivirus protection.
A detailed report is created for all viruses or other dangerous programs.
When a virus is detected, the module notifies the user of the infected file.
Reliability and Efficiency using Kaspersky Lab's advanced technology.
Operating Systems Supported
Microsoft® Windows® 2008 R2 (32-bit and 64-bit)
Microsoft® Windows® 2008 (32-bit and 64-bit)
Microsoft® Windows® 7 (32-bit and 64-bit)
Microsoft® Windows® Vista (32-bit and 64-bit)
Microsoft® Windows® 2003 (32-bit and 64-bit)
Microsoft® Windows® XP (32-bit and 64-bit) with SP2/SP3
Microsoft® Windows® 2000
Hardware Requirements
1.4 GHz processor or faster processor
1 GB of RAM or more
400 MB of free hard disk space, and at least 500MB for cache