Traffic Inspector
---
Monitor Internet activity and access, control your connections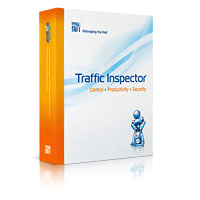 Our Price:
151.36
USD
(Discount
10
%)
An integrated gateway solution for controlling access to the Internet and for providing data transmission services. The product contains: a proxy server that provides caching and blocks unwanted resources; a simple and secure firewall to protect against network attacks; a billing system; accounting for all types of traffic (through the proxy server, the mail gateway, and NAT); a system for the dynamic control of speed and sessions; blocking of excessive network activity; diversion and routing of traffic; mail gateway; integration with Active Directory; secure authorization; web server statistics; remote access; reports.
Why Choose Traffic Inspector ?
Control Internet Access & Traffic.
Accounting for Traffic.
allows caching of frequently-used Internet resources, as well as blocking banners, ads, etc.
Network protection is organised at two levels: Firewall for external attacks, locks and alarm at excessive network activity
Speed Control & Routing.
Spam Filtering.
Remote Control & Statistics.

Operating Systems Supported
Microsoft® Windows® 2008 R2 (32-bit and 64-bit)
Microsoft® Windows® 2008 (32-bit and 64-bit)
Microsoft® Windows® 7 (32-bit and 64-bit)
Microsoft® Windows® Vista (32-bit and 64-bit)
Microsoft® Windows® 2003 (32-bit and 64-bit)
Microsoft® Windows® XP (32-bit and 64-bit) with SP2/SP3
Microsoft® Windows® 2000
Hardware Requirements
1.4 GHz processor or faster processor
1 GB of RAM or more
400 MB of free hard disk space, and at least 500MB for cache