Bitdefender Antivirus Plus 2015 + Free PC Booster 7
---
Best antivirus, antispyware defense, and system performance!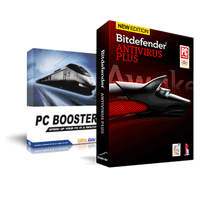 Bitdefender Antivirus Plus is the antivirus & antimalware solution that defends you with product of the Year technology. With a non-intrusive and extremely fast scanning technology, it offers essential silent security against e-threats.
Experience the antivirus at an incredible speed, without slowdowns! Bitdefender Photon™ is an innovative antivirus technology that eliminates slowdowns and accelerates scanning speed by gradually adapting to your PC.
Surf the Internet and socialize without worries. Your private information cannot be seen or stolen by hackers.
PC Booster 7, will increase PC speed in 2 minutes, using a revolutionary Auto-Tune up process that will automatically optimize your computer for best performance.
Why Choose Bitdefender Antivirus Plus 2015 + Free PC Booster 7 ?
Keeps hackers at bay by automatically opening all your online banking pages in a separate, secure browser.
Vulnerability scanner checks for missing or outdated security software, missing Windows security patches, and potentially unsafe system settings.
Proactive, dynamic detection technology that monitor processes' behavior in real time, and tags suspicious activities.
Immunizes any Flash Drive from viruses when they're connected to your computer.
Analyzes and blocks websites that support various scams or credit card phishing attempts.
Filters/blocks social-networking specific e-threats by scanning links you receive from your Facebook friends.
Best antivirus and antispyware defense.
Operating Systems Supported
Microsoft® Windows® 8
Microsoft® Windows® 7 (32-bit and 64-bit) with SP1
Microsoft® Windows® Vista (32-bit and 64-bit) with SP2
Microsoft® Windows® XP (32-bit) with SP3
Internet Explorer 7 and higher
Hardware Requirements
1 GHz processor or faster processor
1 GB of RAM
1.8 GB of free hard disk space