BitDefender Client Security
---
Robust and easy to use business security and management solution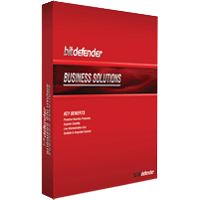 Our Price:
359.55
USD
(Discount
10
%)
BitDefender Client Security is an easy to use business security and management solution, which delivers superior proactive protection from viruses, spyware, rootkits, spam, phishing and other malware. The centralized management console ensures the consistent deployment and enforcement of security policies, in addition to network-wide auditing and reporting of a company's servers and workstations.
Reduced administration workload and costs
Provides a series of configurable security policies which can be easily set using pre-defined templates.
Maintains mobile users' compliance with corporate security policies even while offline.
Integrates with Active Directory for an easy and flexible management process.
Helps address the compliance issues related to network admission by automatically detecting new stations and then deploying Business Client on them.
Enables the automation of security and compliance-related activities so that event response is automatically dictated through the security policies set by the administrator.
Ensures consistent antimalware protection across the organization through centralized management of the Business Client features: antivirus, firewall, antispam, update, privacy control, user control.
Enhances management capabilities allowing the IT admin to uninstall software (MSI) from client workstations by using WMI scripts.
Increases business productivity through user activity administration controls.
Why Choose BitDefender Client Security ?
Automation of routine management activities and event response through security policies.
Tiered management architecture with master-slave servers.
Centrally managed antivirus, firewall, update, antispam, privacy and user control for workstations.
Automatic detection and deployment on new workstations.
Identification and correction of non-compliant systems.
Proactive heuristic protection against zero-day threats.
Important data backup at workstation level.
Detailed reports.
Extensive WMI script support.
Operating Systems Supported
BitDefender Management Server
Microsoft® Windows® 2003 with SP2
Microsoft® Windows® XP with SP2/SP3
Microsoft® Windows® 2000 with SP4
Microsoft® SQL Server 2005 / SQLExpress
BitDefender Business Client
Microsoft® Windows® Vista (32bit / 64bit)
Microsoft® Windows® 2003 with SP2
Microsoft® Windows® XP with SP2/SP3 (32bit / 64bit)
Microsoft® Windows® 2000 with SP4
BitDefender Agent
Microsoft® Windows® Vista (32bit / 64bit)
Microsoft® Windows® 2003 with SP2
Microsoft® Windows® XP with SP2/SP3 (32bit / 64bit)
Microsoft® Windows® 2000 with SP4
Linux 2.4.x, or 2.6.x with glibc 2.3.1 or newer and libstdc++5 from gcc 3.2.2 or newer
BitDefender Management Console
Microsoft® Windows® Vista (32bit / 64bit)
Microsoft® Windows® 2003 with SP2
Microsoft® Windows® XP with SP2/SP3 (32bit / 64bit)
Microsoft® Windows® 2000 with SP4
Hardware Requirements
BitDefender Management Server
800 MHz processor or faster processor
512 MB of RAM or more
1.5 GB of free hard disk space
BitDefender Business Client
800 MHz processor or faster processor
256 MB of RAM or more
60 MB of free hard disk space
BitDefender Agent
800 MHz processor or faster processor
256 MB of RAM or more
100 MB of free hard disk space
BitDefender Management Console
800 MHz processor or faster processor
256 MB of RAM or more
100 MB of free hard disk space