Genie Timeline Home 2014 - License
---
Effortless protection for all your files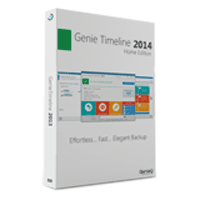 Our Price:
35.96
USD
(Discount
10
%)
Configure your backup in 3 simple steps and you're done
Genie Timeline makes it easy to continuously protect all your files no matter where they are stored; on your computer, external and network drives. Genie Timeline works automatically to protect new and changed files without any intervention.
Why Choose Genie Timeline Home 2014 ?
Effortless protection for all your files.
Go back in Time.
Recover deleted files.
Track your backup wherever you go.
Access your backed up files without the need of the software .
Operating Systems Supported
Microsoft® Windows® 8 (32-bit and 64-bit)
Microsoft® Windows® 7 (32-bit and 64-bit)
Microsoft® Windows® Vista (32-bit and 64-bit)
Microsoft® Windows® XP with SP3 (32-bit and 64-bit)
Hardware Requirements
1 GHz processor or faster processor
1 GB of RAM or more
200 MB of free hard disk space