Kernel for Windows Data Recovery - License
---
A robust data recovery software for FAT and NTFS file systems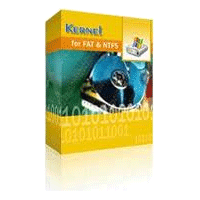 Our Price:
34.30
USD
(Discount
30
%)
Microsoft Windows is the most preferred operating system among individuals and professionals working in organizations. Windows use File Allocation Table (FAT) or New Technology File System (NTFS) file system to systematically store/fetch data from hard disk or other storage media like PEN drive. The data stored on hard disk or any other storage media using FAT/NTFS file system is vulnerable to loss due to reasons like virus attack, registry corruption, hard disk formatting, loss of MBR, abrupt system shut down, etc.
Kernel for Windows Data Recovery, an output-driven, stupendous, and sophisticated FAT and NTFS data recovery software enables you to recover all data, which has been lost from your computer's hard disk drive. This wonderful Windows Data Recovery software can even recover the file(s) or folder(s) that are deleted by pressing the SHIFT + DELETE key. The deleted files that are recovered using Windows Data Recovery - FAT and NTFS software are displayed in Red color for their easy identification. The software comprises different scanning modes to help you completely recover the every bit of lost data based on various data loss situations.
Why Choose Kernel for Windows Data Recovery ?
Recovery of deleted and damaged partitions.
Recovery of missing files(s) and folder(s).
Data recovery after the loss of MBR, Boot sector or File Allocation Table.
Provides recovery of data lost due to accidental formatting of your hard disk.
Recovery of lost data due to variety of viruses(s).
Full support for long file names.
Recovery possible even if the disk partition has been formatted with different file system type or with different parameters.
Full support for IDE, EIDE, SCSI and SATA, PAN, ZIP and USB drives.
Data recovery from deleted, formatted, and re-formatted partitions.
Supports FAT16,FAT32,NTFS and NTFS5 file systems for data recovery.
The Home User License entitles a single person to use the software personally on one or more computer(s) at home.
The Technician License is meant for Data Recovery Companies. It can be used for the purpose of providing services to the customers.
The Corporate License entitles an organization (corporation, company, enterprise, academic institutions, ...) to receive one copy of the software and to install it on multiple machines within one organization at single location.
Operating Systems Supported
Microsoft® Windows® 7 Starter/ Home Basic/Home Premium/Professional/Ultimate
Microsoft® Windows® Vista Starter/Home Basic/Home Premium/Business /Ultimate
Microsoft® Windows® 2003
Microsoft® Windows® XP with SP2/SP3 or Home/Professional
Microsoft® Windows® 2000 with SP4
Microsoft® Windows® NT
Microsoft® Windows® Me
Microsoft® Windows® 98
File Systems: FAT16, FAT32, NTFS, NTFS5
Hardware Requirements
300 MHz processor or faster processor
64 MB of RAM or more
10 MB of free hard disk space