Stellar Phoenix Mac Data Recovery
---
Recover everything you lost on your Mac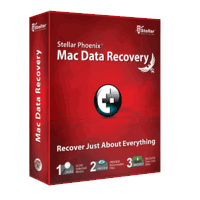 Our Price:
76.49
USD
(Discount
15
%)
With Stellar Mac Data Recovery you can retrieve irreplaceable files on your hard drive lost due to media formatting, accidental deletion, malicious software attack or other similar issues, using different recovery options (Quick Recovery, Deleted Recovery, Formatted Media & Search Lost Volume).
Undelete all your files, folders, documents even after completely emptying the Trash or by hitting 'Command+Shift+Option+Delete'.
If you no longer see existing volumes on your iMac, Mac Pro, MacBook Pro, MacBook Air, or Mac Mini, the software can locate and rebuild those deleted volumes.
Recover lost, deleted or formatted photos from any internal or external Mac hard drive, USB drive, digital camera, memory card, SD card, flash card, etc..
Recover inaccessible files stored on damaged or improperly burnt optical media (CD, DVD, HD DVD, Blu-ray Disc etc), from all common file systems of optical media, such as ISO 9660, Joliet, UDF, HFS and RockRidge.
You can easily recover all your precious data from IPod Classic and Shuffle.
Why Choose Stellar Phoenix Mac Data Recovery ?
Recovers data from HFS, HFS+, FAT, and ExFAT based drives.
Recovers data from NTFS-formatted Windows Boot Camp partition.
Raw Recovery & Advance recovery options to recover from severely corrupt drives.
Recovers all deleted files with their original file names.
Recovers lost data from iMac, MacBook Pro, Air, Mac Mini, Mac Pro.
Optical Media Recovery (CD, DVD, HD DVD, Blu-ray Disc etc).
iPod Data Recovery.
System Startup Disc.
Operating Systems Supported
OSX Mavericks 10.9
OSX Mountain Lion 10.8
OSX Lion 10.7
OSX Snow Leopard 10.6
OSX Leopard 10.5
OSX Tiger 10.4
Hardware Requirements
1 GHz Intel processor or faster processor
1 GB of RAM or more
50 MB of free hard disk space